Bristol County Savings Bank Awards $125,000 Grant to South Coast LGBTQ+ Network, Inc.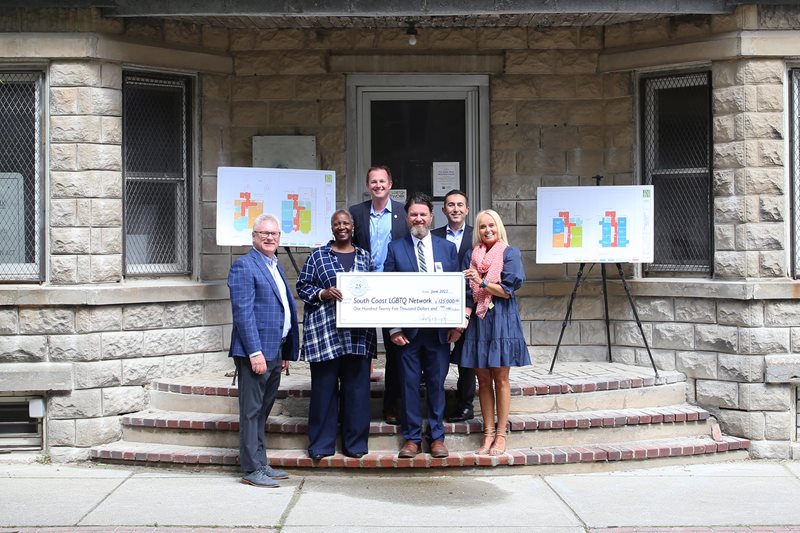 TAUNTON, MA, July 14, 2022 —Bristol County Savings Bank (BCSB), through its
Charitable Foundation
, recently awarded a $125,000 grant to South Coast LGBTQ+ Network, Inc., based in New Bedford, Massachusetts. Specifically, the donation is supporting a capital campaign for the South Coast LGBTQ+ Community Center which is currently under development at 60 Eighth Street in New Bedford. When complete, the Community Center will be a contemporary, central hub which will ensure free, easily accessible access to programs, services, resources, training and education for everyone in the LGBTQ+ community.
"We are proud to award this grant to the Network as we feel that an inclusive community is a strong community," said Patrick Murray, President and CEO of Bristol County Savings Bank and President of Bristol County Savings Charitable Foundation. "It is our hope that the Community Center can help facilitate a strong support network for the LGBTQ+ community and help ensure respect and equality for all our neighbors."
Murray added that the Bank's grant will go towards interior renovations to modernize the historic property, including a new HVAC system, safety and security systems, an elevator, gender-neutral handicap bathrooms, a commercial kitchen, art space, video room, multipurpose room and offices for rent.
"We are thrilled to partner with Bristol County Savings Bank to build and maintain a space to help LGBTQ+ individuals and families thrive," said Andy Pollock, President, South Coast LGBTQ+ Network, Inc. "The Bank understands the need to provide services to those who are most vulnerable in our community and has stepped up to make a difference in their lives."
South Coast LGBTQ+ Network:
The South Coast LGBTQ+ Network is a nonprofit organization whose mission is to create and support a thriving LGBTQ+ community on Massachusetts' South Coast where individuals across the age spectrum can freely, safely, and joyously celebrate their true selves and realize their full potential. Every day, The Network is dedicated to building and maintaining a comprehensive support network for LGBTQ individuals and families across the age spectrum, with an emphasis on the most vulnerable within the LGBTQ+ community: LGBTQ+ youth, transgender and nonbinary individuals, and older adults. The Network offers a wide range of services and events that promote LGBTQ+ awareness and education, health and wellness, social interaction, professional development, and much more.
Bristol County Savings Bank:
Bristol County Savings Bank, a state-chartered savings bank and the wholly-owned subsidiary of Beacon Bancorp, is a full-service banking institution with approximately $3 billion in assets. Founded in 1846, Bristol County Savings Bank has expanded its
branch network
to include 16 full-service offices in Attleboro, Dartmouth, East Freetown, Fall River, Franklin, New Bedford, North Attleboro, Raynham, Rehoboth and Taunton, Massachusetts, and Cumberland, Greenville and Pawtucket, Rhode Island as well as a
Loan
center in Warwick, Rhode Island. The Bank also operates limited service educational branches at Taunton and Attleboro High Schools. In addition to
traditional banking services
, Bristol County Savings Bank offers wealth management services through its affiliate
Bristol Wealth Group
. The Main Office and Corporate Headquarters of Bristol County Savings Bank are located on Broadway in Taunton, Massachusetts. For more information on Bristol County Savings Bank, visit
www.bristolcountysavings.com
.