BRISTOL COUNTY SAVINGS BANK APPOINTS LE TO VP/COMMERCIAL LOAN OFFICER AND PROMOTES OMER TO COMMERCIAL LOAN OFFICER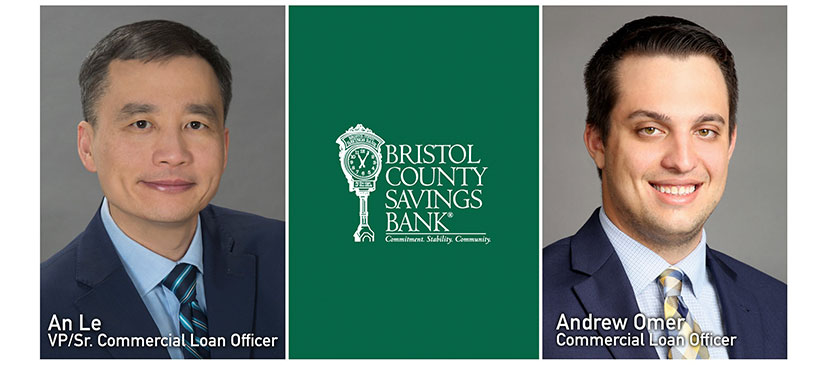 TAUNTON, MA, January 26, 2022 — Bristol County Savings Bank (BCSB), headquartered in Taunton, Massachusetts, announces the appointment of An Le to the position of Vice President/Senior Commercial Loan Officer/Commercial Lending and the promotion of Andrew J. Omer to the position of Commercial Loan Officer. In this capacity, Le develops and manages client relationships in the greater Rhode Island and nearby Massachusetts areas by providing commercial loan and commercial real estate loan solutions along with a comprehensive range of other financial products. In Omer's new position, he is responsible for the development and management of commercial lending and deposit relationships in the greater Rhode Island area. Both Le and Omer are based at the Bank's Warwick office located at 300 Jefferson Boulevard.
Prior to joining Bristol County Savings Bank, Le held several positions over more than 25 years at Citizens Bank in Providence, Rhode Island, most recently serving as Senior Vice President – Relationship Manager, Business Banking. Previously a member of the Board of Directors for the Northern Rhode Island Chamber of Commerce, he earned his bachelor's degree in Finance from the University of Rhode Island, Kingston, Rhode Island. Le resides in Cumberland, Rhode Island.
Before his promotion, Omer held the position of Portfolio Manager at Bristol County Savings Bank. Prior to his tenure at the Bank, he served as Portfolio Manager and Credit Analyst at Freedom National Bank in Greenville, Rhode Island. Omer earned his master's in Finance with a concentration in Leadership from New England College of Business, Boston, Massachusetts and his bachelor's degree in Finance from Bryant University, Smithfield, Rhode Island. He also has received several certifications from the Risk Management Association, Massachusetts Bankers Association and BancAlliance. Omer resides in West Warwick, Rhode Island.